How to take pictures of your: Toddler

A lot of parents get frustrated when their toddler hits the walking stage. All of a sudden they are much more interested in exploring their new environment than sitting and smiling for a picture. Not to mention their great increase in speed and their ability to run away from you....super fast! So here are some tips on how to improve your pictures during this darling stage of life-when they aren't old enough to realize you are wanting to take a good picture of them-yet so sweet and genuine that any good picture that you get will send your heart a-flutter.

Tip #1: Take "NO" out of your vocabulary...at least for a little while (unless they are about to hurt themselves, of course). Nothing can make a happy toddler feel sad and not in the mood for pictures than a stern reprimand.


Remember! Happy parent=happy toddler vs. stressed parent=grumpy toddler.
"Oh you want to run and play in your curtains? That's okay!" (NOT normally okay, get it?)
Tip #2: Make it a game. Everything. Very important. Peek a boo, tickling, songs, jumping, dancing, making silly sounds with your mouth, hitting yourself over the head with a doll and saying loudly "Boink!"...you get the idea. Toddlers love that kind of stuff...and they can't resist looking at you + camera to get a better look.
"Peek A Boo!"
Tip #3: Give them something to play with. What better way to encourage happy, natural, pictures than with a favorite toy or animal (nothing too distracting, simpler is better). Plus it will make them feel a little more at ease with their special toy.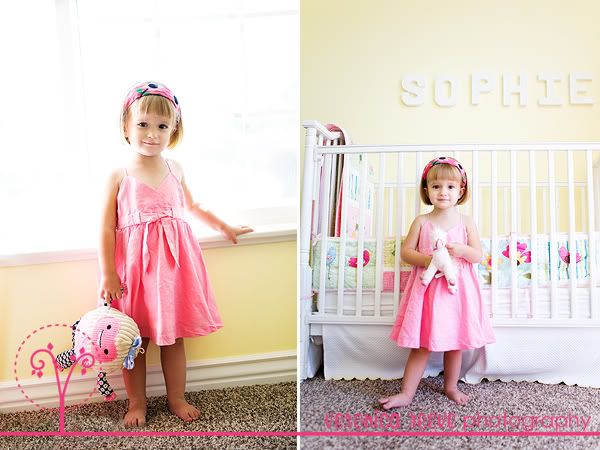 Sophie and her babies (everything small is a "baby" to her)
Tip #4: Let them scare you.....and act scared. That's right, swallow your pride and scream little a girl when your little one jumps out and screams "Boo!/Roar!" It will make them think they've really got you, and they will laugh and laugh. Guaranteed. Try it, you'll see. Also works for teenagers.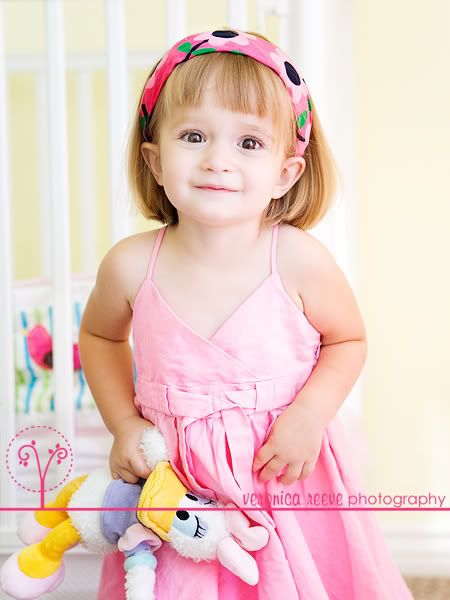 Sophie ready to pounce. Super scary.
Tip #5: "Put something" in your camera. A piece of candy, a favorite toy, a dog, a fireman or a princess, (whatever works with your child) and tell them to look closely in your camera to see it. That will get you those serious, wide-eyed stares.
In our case, a piece of candy. You want it? You got to look for it!
Just a few techniques but hopefully they can get the wheels turning in your head. Now go out and take pictures of that seemingly impossible toddler! Yay!