Hi! So....I've been thinking, and I've decided that I'm going to try something new on my blog. Every Tuesday I'm going to post a photography tip. I get a lot of questions to my email and I don't always have enough time to respond, so I thought this would be a good time/place to answer some of those questions. Also, I thought I'd share some of the "tips" that I am frequently trying to work on myself, and things that I feel are an important aspect of photography. No, I don't know everything. No, I don't consider myself an expert in all areas of photography...but I have picked up a few things along the way, and I'd like to share those with you...my loyal blog readers.
Also, if you can think of any questions that you feel would be a benefit to not only you, but other blog readers, feel free to ask (email me or post a question on this post) and I'll try to get to all of them.
The very first Tuesday Tip of the Week (clap, clap, clap, clap)
Stop stressing and start shooting...
Do your "photo shoots" with young children and toddlers sometimes (all the time) end in stress and frustration (for both you and the "subject')? Rather that instructing, positioning, and asking (demanding) that the child look at the camera and smile – take a step back and just let your child (or children) be a child. Let them play outside, at a park, or with their favorite toy. Let them splash in puddles. Let them play with their siblings. Buy them a new inexpensive toy to play with as part of the "shoot." Let them dress up and have fun. While they do these activities, interact with them and shoot like crazy. The resulting pictures will be more natural and relaxed. The pictures will allow you to see, appreciate, and capture the essence of the child and will be much better than a stiff "say cheese" photo.
Examples:
This little guy did not want to sit in this chair in a "traditional" fashion. Get mad at him and risk watery eyes and a grumpy little guy for the rest of the session? No, go with it! You'll always remember his 2 year old stubbornness!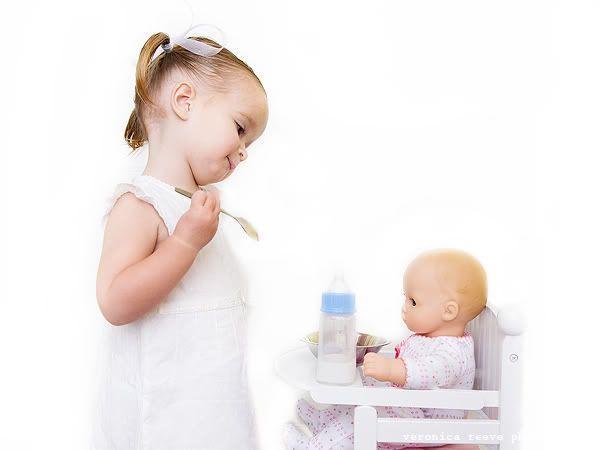 Let them play! Sit back, and watch their expressions as they are using their imaginations.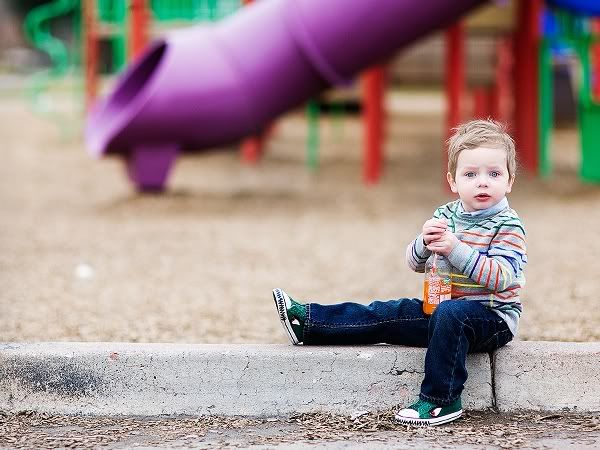 Small, inexpensive props (like this soda) can add a lot of character to your photos. Take photos at a park and not only do you have bright colorful images, but your child couldn't be happier!